Welcome to Hotel Story Wiki!!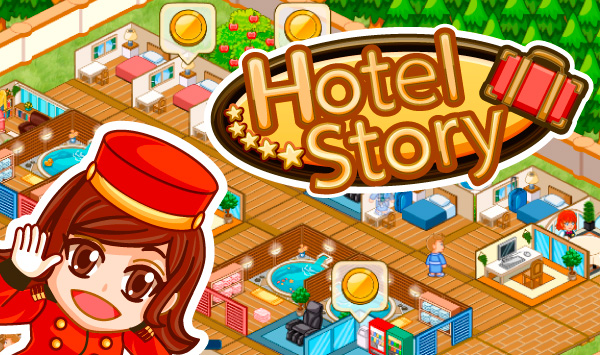 ---
Hotel Story is a free to play, epic strategy and simulation game. Build the hotel of your dreams.
Hotel Story works like a real world hotel. Tourists come to the hotel and pay to use the facilities that you decide to build. Will your hotel be a health resort which offers only massage, yoga and gym facilities? Or will it be a full fledged holiday resort with zoos, bars, cafes and shops? Will it be an up market facility or a budget property? Your property might be beautifully landscaped or perhaps a concrete block of buildings. You get to decide the kind of hotel you want and tourists that come e.g. financially limited backpackers or rich scientists, maybe even aliens!
Hotel Story features 10s of unique facilities and tourists, each with multiple levels of progression and upgrades. Connect with thousands of players worldwide, see what people are designing and send tips to your favourites. You can even play off line!
Hotel Story is developed and maintained by Happy Labs, a small family of independent developers coming together to create free games for mobile phones and tablets. Their mission is to create free games for anyone, anywhere. Happy Labs believe in the power of FREE and want to bring a smile to your face.
Recent Wiki Activity

October 2, 2017
We are migrating to a new Server that is more stable and has a better restore game feature.
Please update to new version directly.
Please do not uninstall and reinstall or your saved data will be gone forever.
Your Game ID will change and you will need to re-add followers.
Fixed some crashing bugs
Poll
Which Happy Labs' game do you like best?
Activity
None for now.